Vindhya Bachao members harassed by Welspun Energy and Uttar Pradesh Police in Mirzapur
---
Vindhya Bachao members were harassed by the staff of Welspun Energy. The event took place on Sunday, 18th June, 2017 around 9 pm in Dadri Khurd on Kumbia-Sarson Road.
Vindhya Bachao's founding members Debadityo Sinha and Shiv Kumar Upadhyaya alongwith their friends and family members went to meet Ram Awadh Singh, a resident of village Dadri Khurd, Mirzapur. Due to closure of the old road, they could not find the route and Ramagya Singh, a friend of Ram Awadh Singh came on his motorcycle to help them reach the destination. They went little bit ahead on Kumbia-Sarson road, but due to bad road conditions, the vehicles were parked at some place and they all went on foot to reach Ram Awadh Singh's house around 5 pm.
On insistence of Ram Awadh Singh,a retired Junior Engineer from UP government, insisted on having meal before leaving and the VBA members could leave his home only around 8.00-8.30 pm. Around 9 pm, the team reached the place where the car and the motorcycle was parked, but to everyone's surprise the motorocycle of Ramagya Singh was not there. Within few minutes, 2 to 3 vehicles reached the spot and surrounded the team. They identified themselves as company Welspun Energy's staff and two of them claimed themselves to be advocate Pramod Pathak and Sandeep Pathak.
The person named Pramod Pathak misbehaved with the Vindhya Bachao team members and snatched camera bag from Debadityo Sinha's hand. There was one police vehicle as well parked there which refused to intervene between the parties. Instead, the police vehicle consisting of S.O. Bhuvaneshwar Pandey started accusing the Vindhya Bachao members for being there without any reason, despite explaining him that the team was returning from Ram Awadh Singh's home after dinner. When the Vindhya Bachao members requested the S.O. to ask Pramod Pathak to return the camera, he simply refused and asked to come along him to police station. He informed that the motorcycle of Ramagya SIngh was conbfiscated by the police. The S.O. Bhuvaneshwar Pandey even called the Vindhya Bachao members gunda (goons) and said that he knows what they are and will make them learn a lesson in police station. 'It was like Pramod Pathak was himself District Magistrate and police was working under his direction', said Narender Singh who was present during the whole episode. For more testimonies please see the following videos and social media communications.
Welspun people alongwith people blocked our way, snatched camera, misbehaving, called police as well

— Debaadityo Sinha (@debadityo) June 18, 2017
Going to Marihan police station now, police was there but refused to take any action, called at station. Badly stuck in rain as well.

— Debaadityo Sinha (@debadityo) June 18, 2017
On reaching police station, Marihan, the company staff returned the camera, however memory cards in the camera and the camera bag was not inside. Additionally, there was some money which has been taken as well. Company people refused to accept that they have take anything from the camera bag and S.O. Bhuvanshwar Pandey also didn't show any interest in resolving the issue. On requesting him, he only asked the members to make written complaint and he left the police station.
One of the staff of the Welspun Energy also submitted one complaint against the Vindhya Bachao members alleging that they have manhandled him and hit him. Vindhya Bachao members also filed a complaint alleging the company people of misbehaving and forcefully taking away the camera and returning incomplete material. Another complaint was filed by Ramgya Singh against the Welspun Energy staff for manhandling him.
Members could leave the Marihan Police Station only after 12 mid-night. No FIR's were registered against anyone at that point of time. Copy of the complaint submitted by Debadityo Sinha is provided below: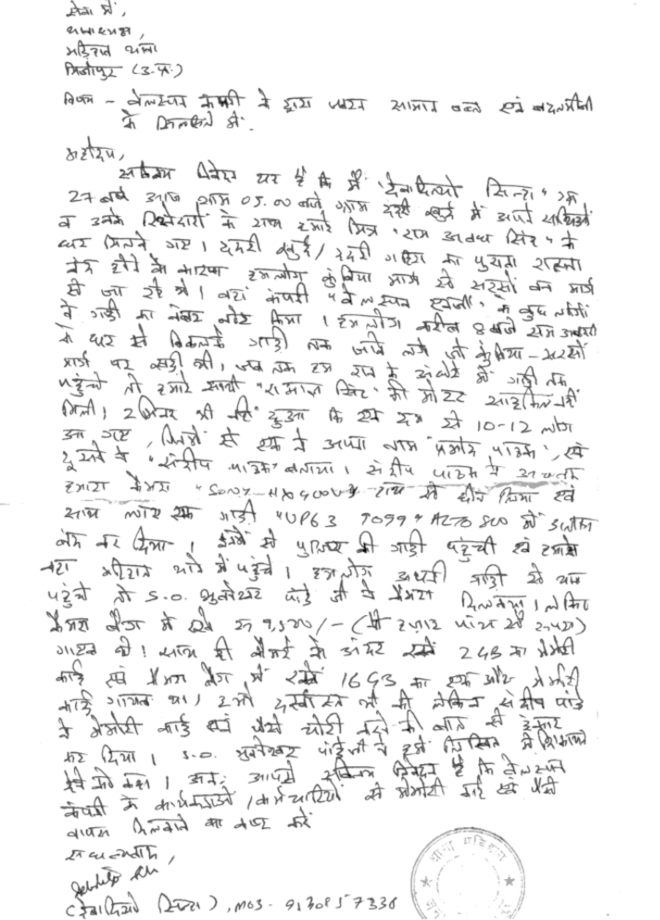 UPDATE:
An FIR is filed at Marihan Police Station by the Welspun staff against the Vindhya Bachao members on 20th June, 2017. Members of Vindhya Bachao deny eacha nd every allegations written in the FIR. A snapshot of the FIR is provided below:
Media Reportings:
पुलिस ने छीन लिया पैसा, चिप - Amar Ujala, 20th June, 2017
सामाजिक कार्यकर्ताओं को बदमाश समझकर उठाया -Aaj, 20th June, 2017
वेलस्‍पन और पुलिस ने मिलकर कैसे किया एक पर्यावरण कार्यकर्ता को प्रताडि़त? देखें वीडियो- Media Vigil, 20th June, 2017
Tags: Welspun Energy, Uttar Pradesh