Kanhar Dam: After Tribals It's Elephants Uprising in Sonbhadra
---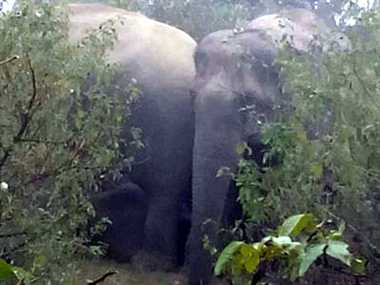 It seems the elephants are very much angry with the previous report submitted by the high level committee to the National Green Tribunal in which it said that the area is not reported to be of elephant corridor. In a major blow to the claim, this week the elephants revolted by attacking houses in the area, killing several domestic animals and damaging crops. Interestingly, at the same time the Committee was on its tour to the area after NGT showed dissatisfaction and sought a detailed and comprehensive report. Kanhar Dam (classified as a major irrigation project)- which is built on gross violation of environmental laws and in absence of any EIA, wildlife impact assessment and socio economic survey is becomingthe symbol of the inhuman and anti-environment approach of the State which has received full support from Central Government.
The habitat represented in the project area is similar to the habitat in the adjoining forest area. Thus, if there is any loss of habitat due to construction of reservoir, this will not unduly affect the animals residing in the project area. These animals can find alternate home in the vicinity of the project area itself without having to migrate to far off distance. The area of project is neither harbouring any elephant nor is the migratory corridor for the elephants
-Observations made by Chief Conservator of Forests in the Report by High Level Committee (October, 2015)
It will be interesting to see what stand the Committee will take in its revised report? Will the elephants be able to make a comeback in their files? We will see it on 4th January, 2016 in New Delhi. High hopes from the Committee this time!
Further Readings
हाथियों के झुंड ने मचाया उत्पात, आठ घर ढहाए: Amar Ujala | 23rd December, 2015
सोनभद्र में हाथियों के उत्पात में आठ मकान ढहे, पांच मवेशियों की मौत: Dainik Jagran | 22nd December, 2015
हाथियों का उपद्रव, घर उजाड़े, जानवरों की ली जान: Nai Duniya | 22nd December, 2015
Tags: Forest, Kanhar, Dams & Barrages, Uttar Pradesh, Man Animal Conflict