International Human Rights Report Highlights Welspun Energy's Mirzapur Thermal Power Plant and Vindhya Bachao's Efforts
---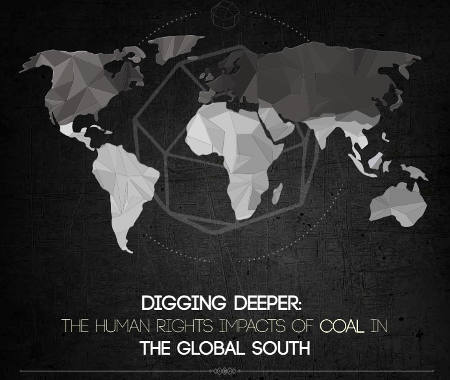 The issue of Welspun Energy's Mirzapur Thermal Power Plant and efforts of Vindhya Bachao Abhiyan is recently highlighted in a an international report titled"Digging Deeper: The Human Rights Impacts of Coal in the Global South"published in November, 2015 ahead of Paris Summit. The document which is published by The Center for Law, Justice and Society, Colombia and The Business and Human Rights Resource Centre, London. The report focuses on the issue of human rights violation by citing examples from 4 countries- Colombia, India, South Africa and Egypt.
The Report in its India section cites three examples- CESC coal fired plant in Dumka district (Jharkhand), Welspun Energy Thermal Power Plant in Mirzapur District (Uttar Pradesh) and Reliance Power's Sasan Coal Power Project in Singrauli District, Madhya Pradesh. An excerpt from the report on Welspun Energy's Mirzapur thermal power plant
is pasted below:
Welspun Energy reportedly acquired land for a thermal power plant in Mirzapur, Uttar Pradesh, "forcibly [and] at a meagre price by creating an atmosphere of fear…with the help of local property dealers, according to a report by Down To Earth and a local NGO coalition, Vindhya Bachao Movement. Responding to these accusations, the company insisted that it had not displaced farmers. Despite these and related environmental concerns, the Government of India approved the project, granting environmental clearances, in 2014.
You all might be aware that Vindhya Bachao not only exposed several illegalities in land acquisition, concealment of information in its EIA and adopting various unfair means to acquire quick clearances-we were very much successful in generating a global awareness using our own scientific critique and result of which was Banaras Hindu University officially demanded shifting of the project site in 2013 and 550 students submitted a signed petition to the Ministry of Environment in 2014. In August, 2014 the project got Environment Clearance from the Centre and we had to but challenge the Environment Clearance in National Green Tribunal. A GIS based study is published recently by one of our expert Dr. Laxmi Goparaju showed how the land use land cover map was twiddled by Welspun in its EIA report.
The matter is presently subjudice to the court (Debadityo Sinha & Ors versus Union of India & Ors) and we are hoping a favorable decision soon. We have a sub-portal on our website www.vindhyabachao.org/welspun with the relevant documents and correspondences uploaded.
Tags: Welspun Energy, Coal & Thermal Power, Ministry of Environment, Forests and Climate Change, Uttar Pradesh, Reports